*
AUTOSOMAL DNA
Autosomal DNA is the total DNA of all chromosomes and comes from all ancestors. It gives a picture of the origin of the joint ancestry. (7)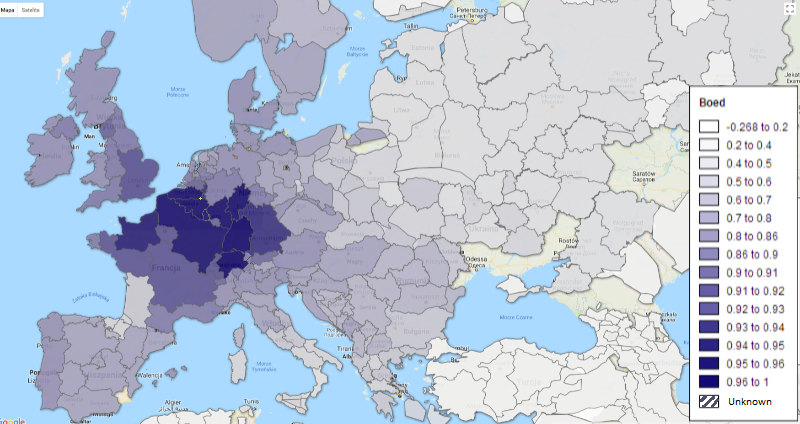 With the mouse on the map there is an enlargement and green dot on Maastricht.
My genome has common genes with mainly West Germans, starting with the people of Hessen and Baden-Württemberg, then mainly South Germany and Switzerland, followed by the Walloons, Northern French, Lorraine, Flemings and finally Englishmen from the South-East.
In the first millennium of our era and perhaps even before, many peoples went from East to West Europe. And many residents of what is now the Netherlands, Belgium, Westphalia and Saxony went on to Great Britain. Many of course also lagged behind.
My ancestors came all from regions more southerly than Maastricht. Striking is the lower share of Limburgers. Brabanders are poorly represented and the other Dutch are hardly there. When many use their genome for research in this way, this will make European migration history more clear.
*
GEDMATCH
This is a group of geneticists who carry out the autosomatic tests for the large companies. They searched for origins from thousands of years ago with the original inhabitants of Eurasia.
The oldest are the Altaic natives who stayed here on the tundra during the ice ages. After the ice ages around 10,000 years ago the hunter-gathererers who repopulated the European mainland from their refugia on the Mediterranean. The Neolithic farmers came from Anatolia 7,000 thousand years ago, and the Corded ware people Iron Age people arrived from the Caucasus 5000 years ago. The Huns also have some left traces.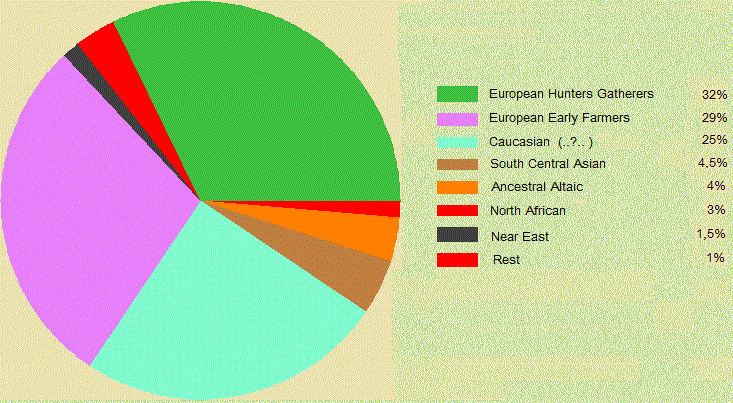 *
Gedmatch compared our family DNA with archaeological remains of hunter-gatherers and the first European Neolithic farmers. Below is a figure with the results in order of the established relationship with whom we share at least one CentiMorgan, a measure of kinship. (8)
In archaeogenetics, 1 cM is the lower limit for kinship. The higher this number is, the greater the kinship, so with more and thicker lines.
In the table below we are the most related to two Neolithic persons who lived 7200 and 3200 years ago in what is now Hungary. They are closely followed by a 7000-year-old discovery from Stuttgart, then a Luxemburger from 8000 years ago. Then a 45,000 year old find from Siberia and a North American Indian from 12,000 years back. His ancestors must not have crossed the Beringbridge not long before that time.
Striking is the large genetic distance to English, Scandinavians and Spaniards Here we seem to have hardly any common ancestors. The least we are related to a Brit - at the very bottom - with whom we share segments of 1 or 2 cM in five places.