*
Y-DNA haplogroups
All Y-DNA haplogroups have sprouted from the common ancestor of all humans. He lived in Africa and had haplogroup A00-AF4.

Y-DNA boom - 14GG San Diego 2016. (17)
Y-DNA Haplogroep A00-AF6/L1284.
A00-AF6/L1284* is still present at six men in Cameroon. It is considered that the time to their most recent common ancestor (TMRCA) 250,000 yers.
A00a-L1149
A00b-A4987/YP3666
A0-T-L1085
A0-CTS2809/L991 split 140,000 years ago off.
A0a   L979
A0a1   L1070
A0a2   L981
A0b   L92.2
A1-P305 split off about the same time, 140.000 jaar ago, and is now in Northwest Africa
A1a-M31
A1b-P108
A1b1-L419/PF712
A1b1a-L602,
A1b1a1-M14 exists in the click language speaking Khoisan populations.
A1b1a1a-M6,
A1b1a1a1-P28
A1b1a1a2-L963
A1b1a1a2a-M114,
A1b1a1a2a1~V97
A1b1a1a2a1a-P262
A1b1b-M32, is mainly distributed among the Khoisan and in East Africa. Some are now living in the Arabian Peninsula. They came there probably as slaves.
A1b1b1-M28
A1b1b2-L427
A1b1b2a-M51/Page42
A1b1b2a1-P291
A1b1b2a1a-P102
A1b1b2b-M13/PF1374,
A1b1b2b1-M118
BT-M91
Y-DNA Haplogroup B-M60 originated in Africa about 50,000 years ago. Stems from A4-M42. This man and his descendants remained in Africa. They live there now scattered in small concentrations among hunter-gatherers of Ethiopia and Sudan, and at the click language speakers.
B2a-M150 in Cameroon, East Africa and the Bantu in South Africa.
B2a1a-M109 comprise approximately 2.3% of African-Americans.
B2b-M112 is present among pygmies and the Koisan in South Africa.
Y-DNA Haplogroup C-M130 stems from CDEF-M168, arose about 90.000 years ago, shortly after the departure of the modern human from Africa. He travelled across the southern Arabian peninsula, through Pakistan and India, and on to Sri Lanka, Southeast Asia, Japan, Polynesia and Australia.
C-M130 * is found in a 37,000 year old skeleton in Kostenki in Russia, today it is still present in India, Sri Lanka and Southeast Asia, and in aboriginal Australians (5% of all C).
C1-F3393/Z1426 in Japan and in Australian Aboriginies.
C1a-CTS11043 is a generation in between.
C1a1-M8 Japanese.
C1a1a P121.
C1a1a1 CTS6678 or CTS11058 Japanese.
C1a1a1a CTS490.
C1a1a2 Z1356 Japanese
C1a2-V20 in a North West African and sporadically in Southern Europe, Nepal and Japan. Is also found in a hunter-gatherer, who died 7000 years ago in La Braña, Spain. These had a dark complexion and blue eyes.
C1a2a-V222.
C1a2a1-Z28010 Brits.
C1a2b-Z29329 Spaniss, Polish.
C1a2c-L38886 Northern Africa.
C1b-F1370.
C1b1-M356 Saoedi Arabië en de Verenigde Arabische Emeritaten, plaatselijk in India, vooral in Gujarat 9%, en in de Brahui van Pakistan.
C1b2-Z5900.
C1c-M38 Eastern Indonesia, particularly Papua New Guinea, on Sumba and the Northern Islands.
C1c1a-P33 in Rapa Nui (Easter Island), 90% in Samoa and Tonga and Tahiti 2/3 third of the male population.
C1c2-M208 Melanesia, Vanuatu, Samoa and Papua New Guinea.
C1d-M347 is exclusive and dominant among the indigenous people of Australia
C2-M217/P44/ 1453 originated 6,000 years ago, probably in South or Central Asia; it is in 27% of the Chinese Han population and in Korea. Even in small rates of Tibetans. It spread to northern Siberia and spread through the Bering Strait to America where it is now found among American Indian tribes along the Venezuelan-Colombian border and in the rainforests of Ecuador. In Europe it occasionally, it probably came here with the Huns at the end of the Roman Empire.
C2a-M93 een private SNP of a Japanese.
C2b-F1396/L1373, Mongolians, a Japanese.
C2b1-F4039.
C2b1a-F3918 Mongolians, and n American Indian.
C2b1a1a-P39 only North American Indian tribes.
C2b1a1b-F1756 or F3985, DYS448 has null value, Central Asian.
C2b1b-M48 Cerntral Asians, some with double DYS19.
C2b1c-F4002 or M504, usually DYS388=14, Mongolians "Genghis Khan" group.
C2b1d-Z22424 Europeans.
C2b2-P48, in small numbers in Yakut-speaking Evenks and Yukaghir in Siberia.
C2b2a-M86/M77 in 70% of the western Evenks, 15% of the Yukaghers, 12% of the Yakut-speaking Evenks, 9% of the Tuvans and some Yakuts. Is there too in Altaian Kazaks, Todjines, Tuvinians, Yakuts, Buryats, Kalmucks and Evenks.
C2b2a1 has a number of men with a double DYS19 value, is found at Altaian Kazacks, Kalmucks, Tuvinians, Mongols and Todjis.
C2b2a1/DYS448=0 in Kazackstan.
C2c-P53.1
C2d-P62.
C2e-M546/Z1338 in Central en East Azia.

C3b2b1*-M401, The House of Aisin Gioro is the imperial family of the last dynasty in Chinese history, the Qing dynasty (1644 - 1911), they originated from Jurchen tribes in North-east China, from which also the Jin dynasty (1115-1234) originates.
Y-DNA Haplogroup D-M174 stems from CDEF-M168, also arose about 50.000 years ago and is now predominant in Central and Southeast Asia.
D1-CTS11577 is in Tibet, about half of the population of Mongolia, and to a lesser degree in Central and Southeast Asia as well in 10 % of the Americans.n.
D1a-M15 is in Tibet, Mongolië, Centraal en Zuidoost Azië.
D1b-M55 is exclusively in Japan, where it arose between 12.000 and 20.000 years ago, and is now found in 35% of the population.
D1C1-P47 in Centraal Azië.
D2-L1366 is only in the Philippines.
Y-DNA Haplogroup E-M96 comes from haplogroup B. Originated in North East Africa about 40,000 YBP, spread over whole Africa with the Bantu agricultural expansion. E is also the most common lineage among African Americans. It is an old, diverse haplogroup with many branches and is found distributed throughout Africa today. It is also found at a very low frequency in North Africa and the Middle East He was one of the first emigrations of modern humans out of Africa
E1a1-M44, has been detected in the Fulbe population in Cameroon at 53%. 2-5% levels have been observed in Mali and Sudan, 18.9 KY. in Alsace-Lorraine.
E1a1a-Z17699,
E1a1a1- Z17697, 3.0 KY
E1a1a1a1-Z17696, Ashkenazi Jews of n.e. Europe
E1a1a2-Z36092, Lebanese Druze 3.0 KY
E1a1b-Z17467, became later in Africa and beyond the deepest branches and the largest distribution, England 3,3 KY
E1a1b1-Z20650, English, formed 3,1 ybp
E1a1b2-M4507, English.
E1a1b3-Z31503, formed in England, TMRCA 550 ybp.
E1a1c-Z31497, Germans TMRCA 5.000 Ybp.
E1b1-P2 later spread within Africa and then travelled to Asia Minor and southern Europe.
E1b1a-L222.1 is still widely spread throughout Africa.
E1b1a2-M329 is arcncient an DNA sample from the highlands of Ethiopia 4524-4418 Cal BP.
E1b1b-M212 develops in Northwest Africa, through Asia Minor, along the Mediterranean Sea on South-Europe.
E1b1b1-M35.1 Clusters are now distributed in Western and Southeastern Europe, in Asia minor, in North and West Africa.
E1b1b1a1-M78, moved from Northwest Africa to the Nile Valley and the Horn of Africa at the end of the Ice Age around 14,700 ybp, now African, European, and Middle Eastern.
E1b1b1a1a1-V12, TMRCA 10,000 ybp
E1b1b1a1a1b-V32, in Horn of Africa and among Cushitic-speaking herders further south, Upper Egyptian and East African, in fact has a major part that retreated from the Sahara to Northwest and West Africa, and maybe even made it to Southern Europe in the Early Bronze Age.
E1b1b1a1a1b1-CTS3282, FGC14377, in the Upper Nile valley in Egypt and in East Africa. This is the part of E-V12 that fled the rapidly expanding Sahara Desert for the Nile valley, and it's these people that created the Upper Egyptian Naqada culture which was the beginning of Egyptian Civilization.
E1b1b1a1b1-L618, in the Neolithic Balkans.
E1b1b1a1b1a-V13, in the Neolithic Balkans
E1b1b1a1a1c-CTS693, TMRCA 8900 ybp, is very West African just south of the Sahara.
E1b1b1a1a1c1a-CTS1239, Y2877, TMRCA 6100 ybp, it becomes European, also Jewish both Ashkenazi and Sephardi, Sardinians and other Europeans as Irish probably descendants of legionairs and colonists from Iberia and Italy.
E1b1b1a1a2-PF2272/V65, historical Berbers. is old enough to be the Proto-Berbers (Meshwesh) of the Egyptian Third Intermediate Period starting around 1070 BCE.
E1b1b1a1b2-V22 seems to have moved to the Nile Valley and Delta after the drying out of the Sahara starting around 5900 ybp. They were pushed to the margins of the Sahara, areas like North Africa and the Horn of Africa where it still rained. This new high concentration of people produced the of the world's major civilizations. It's concentrated in Lower Egypt, and also among Arabic-speaking Sudanese and Nubians. It seems that E-V22 first proliferated in Egypt, and then spread to Sudan much more recent, perhaps with the Egyptians. is also found among Chadic speakers and the Fulani, nomadic pastoralists who migrate all across the Sahel. from Senegal to Sudan. is also found in the Near East, and likely started to migrate to the Levant from the Nile Valley during the Chalcolithic.
E1b1b1b2-PF1961, 1 individual from Peqi'in Cave, Israel, about 6,600 ybp.
Y-DNA Haplogroup F-M89 stems from CDEF-M168 and CF-P143. Formed 70.000 ybp. He became the ancestor of all the Y-DNA haplogroups from G through T. His offspring now includes 90% of the world's population. He would have lived between 60,000 and 60,000 years ago and was the first modern man outside of Africa.
F-M89* at some Iranians. In one third of the archaeological records about 8000 years old in the Carpathian Plain (1/3 was G2a2b and 10% G2a), and in 7,000 years old archaeological DNA in Derenburg, Germany.
F1-P91, occasionally found in India
F2-Y27277, Vietnam.
F2a-M427 occasionally found in India
F3-M481 occasionally found in India
F4-Z40733.
Y-DNA Haplogroup G-M201 stems from F, through M427 and F1329, formed 50.000 years ago in the Middle-East. At present this is a small haplogroup with a 3% to 7% rate of occurrence in Europe, somewhat higher at places in the Alps, and increasing to 10% on the islands of Sardinia and Corsica. This haplogroup probably entered Europe in Neolithic times in several waves, together with J1 and/or J2. It is often found in archeological DNA, but has since decreased for reasons as yet unknown.
G1-L833/M285 the oldest branch, is now seen only in Iran where it accounts for 5% of the population and half of their G; elsewhereit is very scarce. There are two small Ashkenazic subgroups.
G1a-P20.is found in a small group in Kazakhstan, nearly all in subgroups.
G2a1a-L293 and its subgroups account for 50% to 70 % of the men in the Middle-Caucasus, and is also found among small groups of East Europeans, mostly Ashkenazic Jews and Lebanese Maronite Christians.
G2a2-L1259-CTS4367. is the ancestor of 90% of the European G. This group splits into two, with G2a2a accounting for 10% of the European G, and G2a2b accounting for 80% of the European G.
G2a2a-PF3147+
accounts for 5% of the European G and is found along the Danube, Rhine, Meuse and Thames, in Greece and Corsica and Sardinia. Furthermore, in South and Southwest Asia in Turkey Kurds and Armenians in Iran at Armenians in India..
G2a2a1-PF3177+ is the fathergroup of G2a2a1b1-L166/L167, a cluster found on the islands of Corsica and Sardinia as well as in the 5000-year-old ice mummy, Ötzi, in the Alps and in some round the North Sea. It also occurs in south and southwest Asia.
G2a2b-L30/L32/U8/S126 is the major European trunk accounting for 80% of the G.
G2a2b1-M406/PF3285. originated in Turkey and probably entered Italy about 8000 years ago. This is the dominating G clade of southern Europe. 50% of the G men in Iraq, Turkey, Greece and the Balearic Islands have this clade, 25% in Georgia (G2a1a is almost 8%), 20% in Italy, 15% in Spain and the Netherlands, 8% in Switzerland, 6% in Iran, and 4% in Poland and Great Britain.
G2a2b2-L141.1+ probably originated in the Caucasus. Most of the northern Europeans belong to this clade. It is also found in Spain and northern Africa, and among the Brahmins in India.
G2a2b2a-P303/S135. occurs at high rates in the northern Caucasus region among the Karbadinians, Adyghians, Avars and Ingush, and in the majority of G men in Russia and Europe and on the island of Ibiza. It is found at lower rates south of the Caucasus, in Iran and the Middle East, as well as among Brahmins in India and with a certain haplotype in Ashkenazic Jews.
G2a2b2a1-L140/S316. This G clade is dominant in northern and Central Europe, accounting for almost 80% of the G men. This group is estimated to be about 15.000 years old. In some countries it accounts for 7% of the population, but the average is about 3%. It is usually divided into three major clades. It occurs in only small amounts outside the borders of the former Roman Empire. There is an Ashkenazic cluster in northwestern Europe.
G2b-M3115 The oldest archaeologically find is in the Wezmeh Cave in the Zagros Mountains, Iran. He lived 9,250 cal.ybp
G2b1-M377 is found in most G men in Afghanistan. It is also found among Maronite Christians in Turkey, incidentally in Iran, and among Ashkenazic Jews in western Europe.
*
The first farmers in Europe had G2a and G2a2b
Archaeologically found Y-DNA of the first settlers in Europe appeared te be G2a-P15 and G2a2b-L30. Before this time lived here hunter-gatheres who had C and I. Their first burial grounds are found at Derenburg in Saxen-Anhalt (Germany). It is dated between 7.000 and 7,500 years ago.
Y-DNA SNP's from three men could be determined: two men had Haplogroup F and one G2a2b2. From nearly the same period are the archaeological finds in Starvečo in North-West Hungary and finds of the Linear Band culture in the Carpathian Plane in Central Hungary.
These are the earliest settlements of the Neolithic culture in Europe. From nine men in Starvečo the Y-DNA haplogroup could exact determinded, and of 8 less or more complete. Haplogroup F is found in 23,5%, G2a in 18% in whom almost certainly G2a2a-PF3147, including G-L91 based on haplotypes, and G2a2b-S126 in 41%. Total G is nearly 60%. The others had I1a1-P37,2. (18)
Around 7000 years ago arrive this first in The Netherlands. They settle on the mountain slopes of the South Limburg Meuse Valley, as at Caberg a neighborhood on the edge of the plateau west of Maastricht. Here is the fertile loess soil. They find blocks in the underground with flint for the manufacture of tools. Their pottery jars have the Linear Pottery style. The culture is flourishing for 500 years and then disappears without a trace. To what extent this culture disappeared together the population has not yet been demonstrated. There is difference of opinion whether the bringers of the new culture have absorbed or expelled the resident population. See also Maastricht Au-DNA .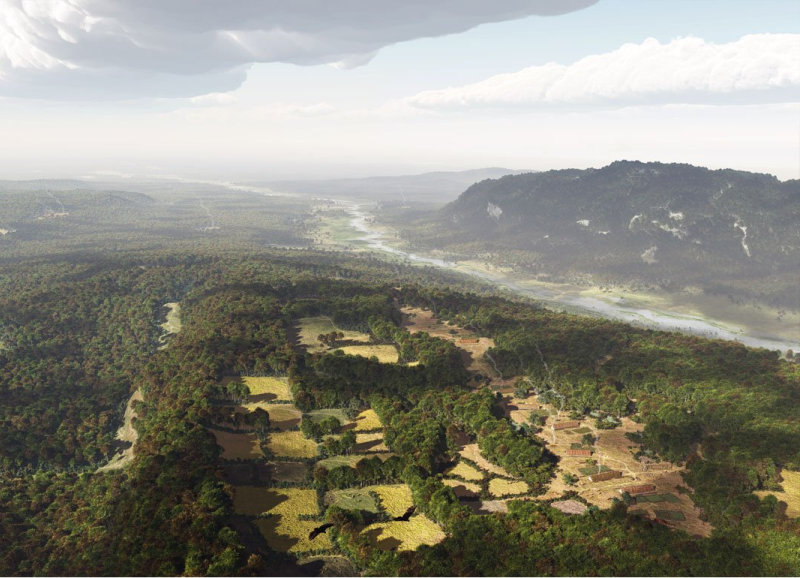 Impression of a LBK hamlet at Caberg a neighborhood on the edge of the plateau
west of Maastricht, the Netherlands. (19)
*
Y-DNA Haplogroup H-M69 arose in an F-man, most probably in India, 30.000 to 40.000 years ago. Today almost all carriers live in India. The European gypsies, called also the Roma or Sinti people, have this haplogroup ‑ they originally came from India.
H-M69, Saudi Arabia, Pakistan, India and Knia (From India?).
H1-M52, Kerala, India
H1a-M82, Romani, Sinti in Europe from India.
H1a1-M197 Iraq.
H1a1a2-L683, Kashmir
H2-P96 (formerly known as F3) Afganistan, (till now) all have DYS393=14.
Y-DNA Haplogroup I-M170 is an European group, It is the only Y-DNA haplogroup that is found in archaeological European Y-DNA. In a recent study it was out determined in all five men from the mesolyticum they had all Haplogroup I: I-P38 (2x), and I2a1b-CTS176 (3x). Nowadays it is present in about a fifth of the population. Outside Europe barely. This suggests an origine in Europe, before the last glacial maximum.
About 28.000 years ago it split into two major subgroups I1 and I2:
I1-M253 has its highest rates in northwest Europe, Great Britain, Scandinavia and Iceland, and was presumably spread further by Vikings, Angles and Saxons.
I1a-DF29/S438.
I1a1-M227 is concentrated in Eastern Europe and the Balkans, and three to five thousand years old. It is also seen in Germany, the Czech Republic, Poland, Estonia, Ukraine, Switzerland, Slovenia, Bosnia, Macedonia, Croatia, and Lebanon