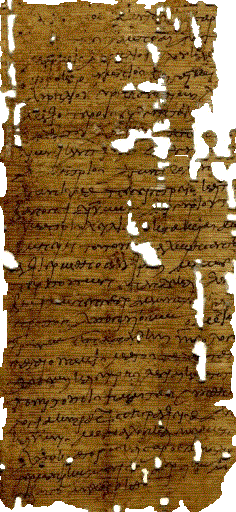 Contrat sur papyrus
Egypte 3ème siècle.
(GetTemplate, WordPress 2014)
G-FGC6669
1. Email Ray Banks, 20 januari 2016: FGC6629 was found in Boed, FGC34750 was found in Mr. Nolet and FGC42426 was found in Martin. I have listed just a few of your unique mutations so we can keep track of them. I could not find any mutations that were shared by just two of the three men with sequencing. Because of some differences in the sequencing tests and my elimination of some mutations in duplicated regions of the Y that were reported, I am having a hard time determining a time relationship. But it seems all three of you share a common ancestor who lived perhaps 1500 to 2500 yrs ago. And so far the evidence is that the earlier ancestors lived in a small family-type group for a very long time.
It seems there was an attempt to validate a subgroup specific to Boed and Martin. But since there are no shared mutations, this could not succeed. So I have suspended this. I used the raw data file (BAM file) for each of you to determine you had clear negatives for the other man's unique mutations. (retour)
1a. Le temps de 8200 ans est calculé sur les Big Y résultats de deux hommes M286. Sur les FullGenomes résultats YSEG a calculé 7350 et Ray Banks 7200 ans. (Back)
2. Cradle of Civilization, A Blog about the Birth of Our Civilisation and Development, aratta.wordpress.com. (retour)
3. Wikipedia.org, Hattiërs"; Hettiten. (retour)
4. Barry Cunliffe, By steppe, desert and Ocean, Oxfort, 2014. (retour)
5. Maiya Pina-Dacier, Archaeologists Visit Santa Trega, Dig Ventures, 1 August 2016. (back)
Litteratuur behorend bij Clade:
- Guido Brandt e.a., The genetic make-up of the Linear Pottery culture, lecture Annual Meeting European Association
of Achaeologists, session: The bioarchaeology of the neolithic Carpathian Basin, Pilzen Czechia, 6 september 2013.
- Jared Diamond, Guns, Germs en steel, The Fate of Human Societies, NewYork/London, 2000.
- Edith Ennen, Walter Janssen, Die Grundlagen der Mitteleuropäicn Landwirtschaft im Neolithikum in Deutsche
Agrargeschichte, Vom Neolithikum bis zur Schwelle des Industriezeitalters, 1979.
- Qiaomei Fu, Revised timescale of human mtDNA evolution, Current Biology, 21 March 2013. Zie also: Dienekes
Weblog 23 maart 2013.
- Jens Lüning, Anfänge und frühe Entwicklung der Landwirtschaft im Neolithikum (5500-22-v.Chr.) in Lüning /
Jockenhhöve / Bender / Capelle, Deutc Agrargeschichte, Vor- und Frühgeschichte, 1996.
- Jean Manco, Ancestral Journeys - The peopling of Europe from the first venturers to the Vikings, London 2013.
- Paul Mellars, The Upper Palaeolithic Revolution - Steven J. Mithen, The Mesolithic Age - Alasdair Whittle, The first
Farmers in Barry Cunlife The Oxford Illustrated History of Prehistoric Europe.
- Fernando L. Méndez et al., An African American Paternal Lineage Adds an Extremely Ancient Root to the Human
Y Chromosome Phylogenetic Tree. American Journal Human Genetics, Vol.92, Iss. 3, 454-459, 28 February 2013.
- The Encyclopedia of Global Human Migration, Immanuel Ness, 2013.
- Barry Cunliffe, By steppe, desert and Ocean, Oxfort, 201.
- J.C. Schalekamp, Bataven en Buitenlanders - 20 eeuwen immigratie in Netherland, 2009.
- Alois Seidle, Deutc Agrageschichte, Frankfurt am Main, 2006.
- ISOGG, Y-DNA Haplogroup Tree 2013.
- Met dank aan Google, Wikipedia en Eupedia voor litteratuurverwijzingen en afbeeldingen.
Genome de la famille
1. E.C.W.L. Marres, Marres, De Nederlandsche Leeuw 107 (1990) 116-147, Middeleeuwen en zijtakken. (Retour)
2. The Forensic Laboratory for DNA Research of the University of Leiden; Family Tree DNA in the USA; National Geographic, the Genographic Project 2.0 Beta Project; Genebase, Canada; 23andME; and FullGenomes Y Sequencing. (Retour)
| | |
| --- | --- |
| 3. Full Genomes, Januari 19, 2013, Email: l'avis de notre expert Gregory Magoon: j'ai couru une analyse en utilisant un outil CNV (variation du nombre de copies) appelé FREEC. Fondamentalement, nous pouvons regarder le nombre de lectures dans les petites fenêtres et la comparer avec un échantillon de contrôle (i.e. à calculer le ratio de lit en cellule). En utilisant une partie de la production intermédiaire Cet outil, j'ai construit le graphique suivant, en regard- | |
dans la région du quartier de DYS19 (b37 Y: 9521934 .. 9522128 accordéon chose à Ybrowse) Nous ne voyons plus que RI426A semble avoir à peu près le double de la couverture typique de la région autour de DYS19. En particulier, il semble que il ya une duplication de la région à peu près de 9517470 à 9525057 (b37) (environ 7,5 kb). Donc, ce qui suggère thatthere est un bon RI426A chance C'est en effet DYS19 = 15-15 en raison de cette mutation de la duplication apparente. (Retour)
4. Sur: Mymcgee.com/tools/yutility51. (Retour)
5. Comparaison des haplotypes et déterminer la distance génétique ne devraient être utilisés quand il ya des indications de parenté. Le généticien Sykes a montré cela dans le clan écossais Donald. Cette vieille famille écossaise a une histoire de famille bien documenté qui remonte profondément dans le Moyen Age. Chez John, Seigneur des Isles, décédé en 1386, provenaient trois branches de la famille, tous sont alors ramification plus loin. Dans dix branches des gens laissent tester leur Y-ADN. La différence dans le nombre de mutations par branche en six cent ans, c'est 20 à 22 générations, avec 38 marqueurs testés, varie de 1 à 5.
Il a montré clairement que la comparaison des haplotypes entre d'inconnues ne peuvent pas être utilisés pour la détermination de la distance génétique ou la relation généalogique. Sorce: Bryan Sykes, DNA USA, 107-111. Dean Macgee's Y-DNA Comparison Utility de L'ISOGGC, on voit souvent un TMRCA deux mille ans ou un pex plus plus avec des gens dans d'autres haplogroupes, dant est connu un TMRCA plus loin de 10 fois. (Retour)
6. La famille Marres a les quatorze 14 marqueurs privé suivants: FGC6600+, FGC6605+, FGC6628+, FGC6629+, FGC6631+, FGC6633+, FGC6634+, FGC6645+, FGC6650+, FGC6651+, FGC6656+,GC6682+, FGC6688+ et FGC6706; YFull les apelle: Y34966, Y35045, Y35051, Y35054, Y35078, Y35118, Y35125, Y35171, Y35295, Y35564, Y35047, Y35345, Y35528 en Y35529. (Retour)
7. Ann Gibbons, Science 2015; photograph of Ancient Origins. sept. 2015. (Retour)
G-PF3147
1. Tepecik - Çiftlik, Arkeolojik Arastirma Projesi, Archaeological Research Project (Back)
2. Kilinc¸ et alii, The Demographic Development of the First Farmers in Anatolia, Current Biology (2016); . (Back)
3. Anna Szécsényi-Nagy, Guido Brandt, Victoria Keerl, et al. Tracing the genetic origin of Europe's first farmers reveals insights into their social organization, bioRxiv first posted online September 3, 2014. (Back)
4. I. Lazaridis, et alii, Genome-wide data on 34 ancient Anatolians identifies the founding population of the European Neolithic, ASHG, october 2015, Baltimore, USA.. The show an Fst to the first farmers of Europe as well as to those of Germany 0.004 ± 0.0004 as those of Spain 0.014 ± 0.0009. (Fst, fixatie index, is een measure for geneticdifference in and between populations, this ranges from 0 no difference to 1 complete difference. (Back)
5. Kinship and Y-Chromosome Analysis of 7th Century Human Remains: Novel DNA Extraction and Typing Procedure for Ancient Material, Daniel Vanek, Lenka Saskova, Forensic DNA Service, Prague, Czech Republic and Hubert Koch, Bavarian State Department of Monuments and Sights, Regensburg, Germany. Croat Med J. 2009 June; 50 (3): 286-295. (Back)
6. Menabdishvili has about 144 private SNPs listed (FullGenomes, probably including medium quality) and Hendon about 90. They share only 4 SNPs. Usually BigY detects about half of one sample's SNPs, so they can probably share a maximum of 8 SNPs. If we use 75 years/SNP, it appears that the common ancestor lived 10800 years ago (144*75). Adding 600 years for the common SNPs gives 11400 years, which is the actual age of PF3177 indicated by YFull. (Information Julian Red) (Back) .
G-M201
1. International Society of Genetic Genealogy (ISOGG), Y-DNA Haplogroup G and its Subclades - 2014, et Yfull tree. (Retour)
2. Haak W, Balanovsky O, Sanchez JJ, Koshel S, Zaporozhchenko V, et al. (2010) Ancient DNA from European Early Neolithic Farmers Reveals Their Near Eastern Affinities. doi:10.1371/journal.pbio.1000536. (Retour)
3. Haak W, Balanovsky O, Sanchez JJ, Koshel S, Zaporozhchenko V, et al. (2010) Ancient DNA from European Early Neolithic Farmers Reveals Their Near Eastern Affinities. doi:10.1371/journal.pbio.1000536. (Retour)
4. Updated map originally copied from Eupedia. (Retour)
5. Kalevi Wiik, Where did European Men came From ?, Journal of Genetic Genealogy, 4:35-85, 2008, Table 7 Frequencies of the Haplogroeps of Y-chromosome DNA in Twenty-Three East-European Populations. Sources: Rootsi (2002), Rosser (2000), Laitinen (2002), Balanovsky (2008), and Nasidze (2004). N.B. : van hoog naar laag door mij genoteerd: Ossetians b 74%, Ossetians a 21%, Gagauges 13,8%, Romenians 5,6%, N.Russians 1,2%, S.Russians 1% en Moldavians 1%. (Retour)
6. Low-Pass DNA Sequencing of 1200 Sardinians Reconstructs European Y-Chromosome Phylogeny, Paolo Francalacci, Laura Morelli, e.a., Science August 2, 2013. Vol. 341, pp. 565-569. (Retour)
7. Alessio Boattini et alii, Uniparental Markers in Italy Reveal a Sex-Biased Genetic Structure and Different Historical Strata, Plos One, May 29, 2013 (Retour)
8. Ray Banks, Haplogroup G Updates, June 8, 2013. (Retour)
9 Haplogroup G (Y-DNA) Country by Country, Wikipedia. (Retour))
11. DNA Project Oud Hertogdom Brabant. On January 11, 2013, the results were announced of 1058 participants from Belgium, and the Netherlands. The provinces Liege, Namur and Limburg have the highest rates in the Benelux. The numbers in the other provinces are much lower. The total number is 124, these have 9 G, which is 7,3 %. (Retour)
12. Romanian Genetics: Abstracts and Summaries: http://www.khazaria.com/genetics/romanians.html (Retour)
13 Haplogroup G (Y-DNA) Country by Country, Wikipedia. (Retour)
14. Sena Karachanak et al, Y-Chromosome Diversity in Modern Bulgarians: New Clues about Their Ancestry, PLoS ONE, March 7, 2013. (Retour)
15. Zonen van Adam in Nederland, Sahar Barjesteh van Waalwijk van Doorn-Khosrovani, e.a., 2008. (Retour)
16. For Belgium there is the DNA Project Oud Hertogdom Brabant, publicated 11 January 2013. It has 1058 participants of whome the great majority, 834 men, is from the Dutch speaking part of Belgium, a tiny part, 55 men, is Francophone Walloon, but also are included 159 Dutch men of the province Noord Brabant bordering Belgium.
The Belgium provinces Liege, Namur and Limburg have the highest rates G. Of the 124 men are 9 G, which is 7,3 %.
The Benelux Geographical Y-DNA Project of FTDNA counts 250 men of whome 15 are G man, that is6 %. (Retour)
17 Haplogroup G (Y-DNA) Country by Country, Wikipedia. (Retour)
18 European Journal of Human Genetics 21, 415-422 (April 2013), Krysztof Rebala et alii, Contemporary paternal genetic landscape of Polish and German populations: from early medieval Slavic expansion to post-World War II resettlements. (Retour)
25a Farnaz Broushaki, Early Neolithic genomes from the eastern Fertile Crescent, Science 14 Jul 2016: DOI: 10.1126/science.aaf7943.; Picture, Zagros Paleolithic Museum, Kermanshah, Iran. (Back)
25b Zuzana Hofmanová, Early farmers from across Europe directly descended from Neolithic Aegeans, PNAS, 2016. (Back) <
26a. Kinship and Y-Chromosome Analysis of 7th Century Human Remains: Novel DNA Extraction and Typing Procedure for Ancient Material, Daniel Vanek, Lenka Saskova, Forensic DNA Service, Prague, Czech Republic and Hubert Koch, Bavarian State Department of Monuments and Sights, Regensburg, Germany. Croat Med J. 2009 June; 50 (3): 286-295. (Back)
27. Anna Szécsényi-Nagy, Guido Brandt, Victoria Keerl, et al. Tracing the genetic origin of Europe's first farmers reveals insights into their social organization, bioRxiv first posted online September 3, 2014. (Retour)
28. New insights into the Tyrolean Iceman's origin and phenotype as inferred by whole-genome sequencing, in Nature Communications, februari 2012. (Retour)
29. Rekonstruktion des Mannes aus dem Eis © Südtiroler Archäologiemuseum, Bozen; Foto Ochsenreiter. (Retour)
31. Markers determined by Forensic DNA Service, Prague, Czech Republic. (Retour)
32. Kinship and Y-Chromosome Analysis of 7th Century Human Remains: Novel DNA Extraction and Typing Procedure for Ancient Material, Daniel Vanek, Lenka Saskova, Forensic DNA Service, Prague, Czech Republic and Hubert Koch, Bavarian State Department of Monuments and Sights, Regensburg, Germany. Croat Med J. 2009 June; 50 (3): 286-295. (Retour)
39. For this paragraphs are inter alia the following works studied
- Christopher R. Gignoux et al., Harvard University Cambridge, USA, Rapid global demographic expansions after the origins of agriculture. "Comparisons of rates of population growth through time reveal that the invention of agriculture facilitated a fivefold increase in population growth relative to more ancient expansions of hunter-gatherers." in Proceedings of the National Academy of Sciences, 2011.
- Marcel Mazoyer and Laurence Roudart, Histoire des agricultures du monde. in the english translation by James H. Membrez, A History of world agriculture from the neolithic to the current crisis, New York 2006.
- Jens Lüning, Albrecht Jockenhhövel, Helmut Bender, Tortsen Capelle, Deutsche Agrargeschichte Vor- und Früh­geschichte, 1996.
- Edith Ennen, Walter Janssen, Deutsche Agrargeschichte, Vom Neolithikum bis zur Schwelle des Industriezeitalters, 1979. (Retour)
41. Guido Brandt e.a., The genetic make-up of the Linear Pottery culture, lecture Annual Meeting European Association of Achaeologists, session: The bioarchaeology of the neolithic Carpathian Basin, Pilzen Czechia, September 6, 2013. (Retour)
42. Jean Manco, Ancestral Journeys - The peopling of Europe from the first venturers to the Vikings, London 2013, p. 150 e.a. (Retour)
Heraldique
1. La description des armes de la famille Marès par Cyril Marès, viticulteur de Mas des Bressades, dans sa lettre du 30 decembre 1997. En outre il écrit: Ma famille est originaire des bords de l''etang de Thau entre Agde et Sètre, dans le sud de la France. Des Marès sont cités depuis 1240 dans cette region et notre ascendance est connue avec certitude jusqu'au XVI ème siècle. (Retour)
5. Miroir des Nobles de Hasbaye, par Jacques de Hemricourt, mis du vieux en nouveau Langage, enrichy d'un grand nombres des Figures en Taille-douce, par le Sr. de Salbray, Bruxelles, chez E. Henry Fricx, 1673. Une belle exemplaire relié de cuir se trouve dans les archives de la famille. (Retour)
6. J.Ph. Gramme, Recueil Héraldique des bourguemestres de la noble cité de Liège, Luik, 1720. (Retour)
7. Ces sept Chevaliers bannerets sont descendants de Dammartin ou de proches parents. Ils portent tous des couleurs différentes. le seigneur de Seraing: or semé de fleurs delis, cris de querre: Dammartin (Thierry Tabareau deuxième fils d'Eustache de Haneffe, le premier seigneur de Seraing, vivait encore en 1312 ); le seigneur de Haneffe droeg hetzelfde wapen, met kwartier van Fagneule, cri de guerre: Dammartin (mort en 1357); le seigneur de Oupeye: argent bezaaid met lelies, cri de guerre: Dammartin (hij was een Dammartin de Warfusée maar noemde zich d'Oupeye); les seigneurs de Antin droegen de wapens van Oupeye met een blauw kwartier; les seigneurs de Thilice: droegen de wapens van Oupeye met een rood kwartier; le seigneur de Duras droeg: zwart bezaaid met gouden lelies, cri de guerre: Dammartin (Jean de Dammartin de Warfusée, leefde in 1316, huwde Alix, erfgename van Duras en stichtte zo een tweede geslacht Duras; le seigneur van Momalle voerde: rood bezaaid met argenten lelies, cri de guerre: Dammartin. (Retour)
8. Dit zijn Barveau, Bombaye, Bruninck, des Champs, le Chantemerle, le Cornut, Edelbampt, Fontaine, Harduemont, Haultepenne, Halendas, Hermalle (sous-Clermont), Jemeppe, Kerckem, Liers, Mombeeck, Marteau, Neufchateau heer van Abée (of Neufchastel), Neu(f)ville, Ordingen, Persant de Haneffe, Pepingen, Sefawe, Wouteringen, Waroux, en Wihogne. - Bron van dit geheel: Bert Barée, Het Oude land van Luik, enkele kenmerken van Luikse heraldiek op 'www.hetoudelandvanluik.be'. Zie ook bij: Bronnen en Litteratuur. (Retour)
9. Le baron Léon de Herckenrode, Collection de Tombes, Epithaphes et Blasons de la Hesbaye, Gand, 1845. (Retour)
10. Publications de la Société Historique et Archéologique dans le Limbourg (PSHAL), tôme XXXVI, 1900, pag. 72. (Retour)
11. PSHAL, tôme LXII, 1927, pag. 102, P. Doppler, Schepenbrieven van het Kapittel van O.L.Vrouw te Maastricht, nr. 460, 2 mei 1463, origineel op perkament, aangehecht het zegel van Wynant Moers, échevin de Veltweselt. voir aussi: J. Belonje, Genealogische en Heraldische gedenkwaardigheden in en uit de kerken der provincie Limburg, Maastricht 1961, Pierre tombale de Hendrik Moers, bailli de Veltweselt et Kesselt, est décédé le 8 novembre 1667: partagé: un lion; b. une barre transversale et dans le bouclier principal deux roses. (Retour)
12. Le baron Léon de Herckenrode, Collection de Tombes, Epithaphes et Blasons de la Hesbaye, Gand, 1845. en particulier pag. 365-366 en 502-504. (Retour)
13. Algemeen Rijksarchief België, Brussel, Oorkonden van Brabant, nr. 2923, nr. 22.416. (Retour)
14. Algemeen Rijksarchief België, Brussel, Oorkonden van Brabant, nr. 4012 en 4013, nr. 25.663 en 25.720. (Retour)
15. Sceaux armoriés de Hesbaye, Emile Boulet et René Wattiez, 1986, A.É.H., Abbaye de Neufmoustier, ch. 241. (Retour)
16. Sceaux armoriés de Hesbaye, Emile Boulet et René Wattiez, 1986, A.É.H., Abbaye de Neufmoustier, ch. 66. (Retour)
17. Armorial Général, J.B. Rietstap, Gouda, 1887. (Retour)
18. Nobiliaire des Pays-Bas, Leuven 1760, p. 427. Armoriaux Liégeois, chevalier de Limbourg, 1934, p. 13. (Retour)
19. Vierset-Godin, Les Bourgemesters de Huy, p. 30; le Fort, Epithaphes, 2e partie, nr. 911; Armoriaux Liégeois, chevalier de Limbourg, 1934, p. 13. (Retour)
20. Nederland's Patriciaat, 1961, jg. 47, pag.205-241. (Retour)
21. H.J. Koenen, Het Geslacht de Marez, 's-Gravenhage 1898. (Retour)
22. Ned. Patriciaat, 44, 1958, artikel Tak - de Maret Tak. (Retour)
23. H.J. Koenen, Het Geslacht de Marez, 's-Gravenhage 1898. (Retour)
24. Repertorio Blasones, berustend in de Biblioteca Nacional te Madrid. Wapenbeschrijving Mares. Er is geen wapen Marres aangetroffen, terwijl de naam Marres wel spaarzaam voorkomt op het Iberische schiereiland. Wel is nog aangetroffen: Marré: en azur un castillo de oro. (Retour)
25. Les informations de tous les signes distinctifs, civils et militaires, à la fois de l'Empire romainde l'Ouest et de l'Orient, Bibliotheca Augustana, Fachhochschule Augsburg, Deutschland, handschrift, circa 430, Notitia dignitatum omnium tam civilium quam militarium utriusque imperii occidentis orientisque. La connaissance de tous les insignes à la fois civile et militaire à la fois de l'Ouest et l'empire d'Orient. Le texte dans les manuscrits survivants sont des transcriptions du manuscrit original perdu, illustrations riches ont été fournis, y compris la Insignia viri Illustris Magistri Equitum, les insignes des dirigeants des différents unités équestres servantes sous l'empereur . (Retour)
51. HCL te Maastricht, ancienne archive M'tricht, notaire P. de Marres, inv. nr. 1336, Testament Emerentia Stas geboren van Buel, 31 juli 1669, ouvré le 2 juli 1697. Le sceau est sur un testament qui il a exposé en sa qualité de notaire. Lakzegel 12 mm. in doorsnede. (Retour)
52. HCL te Maastricht, archief L.v.O., banque échevinal de Geleen, inv. nr. 1240, brief van Pau de Marres aan de schepenbank, 2 febr. 1701. Lakzegel 12 mm. in doorsnede. (Retour)
53. HCL te Maastricht, Oud archief M'tricht, notaire Schaepen, inv. nr. 1738, Gezegelde volmacht van Elisabeth van Leeuwen-Marres, 19 nov. 1709. (Retour)
54. HCL te Maastricht, Oud archief M'tricht, notaire Guichard, inv. nr. 2078, ouverture 29 mei 1765, Testament Elisabeth Busco d.d. 13 juni 1760. née Marres d.d. 13 juni 1760. Ici quatre sceaux de cire avec l'arme à Busco. (Retour)
55. Voir les descriptions des armes de cette famille dans la généalogie van den Bosch. (Retour)
56. Le baron Léon de Herckenrode, Collection de Tombes, Épitaphes et Blasons, recueillis dans les Églises et Couvents de la Hesbaye, Gand, 1845. (Retour)
57. Armorial Général, J.B. Rietstap, Gouda, 1887. (Retour)
58. Th. de Renesse, Dictionnaire des figures héraldiques, zeven delen, Brussel 1894-1903. (Retour)
59. Miroir des Nobles de Hasbaye, par Jacques de Hemricourt, mis du vieux en nouveau Langage, enrichy d'un grand nombres des Figures en Taille-douce, par le Sr. de Salbray, Bruxelles, chez E. Henry Fricx, 1673. Une belle exemplaire relié de cuir se trouve dans les archives de la famille. (Retour)
60. Nationaal Archief te Den Haag, portef.nr. 5864, missiven uit Maastricht aan de Staten Generaal; gezegelde brief van Michael Mares aan de staten Generaal d.d. 5 februari 1762: "De ondergeschreven belove, mij verbindende bij deese, dat indien Haer Hoogmoogende mij gelieven te beneficeeren met de prebende van St Servaes vaceerende door de dood van wijlen E.D. de Mean, ick daervoor sal betaelen de somme van drie duisent Pattacons ofte seven duijsent vijff hondert gulden Hollands, doende de somme van twaelf duijsent gulden Maestrichter Cours en sulx met een geaccepteerde wisselbrief in de Hage te voldoen. M. Mares, priester uijt den Vroenhove. Aangehecht een lakzegel met afdruk van een volledig wapen. Het schild beladen met een kam, vergezeld van drie klaverbladeren. Helm en dekkleden. Helmteken: een klaverblad van het schild." (Retour)
61. Jef Leunissen, Van Wilre tot Wolder, Uit het verleden van het hoofddorp van de voormalige Vroenhof, pag. 108: Michaël Marres legde op 9 februari 1798 te Maastricht toch de eed van haat aan het koningschap af. Hij stichtte te Wilre twee jaargetijden en schonk aan de kerk een zilveren kelk. Hij overleed op 14 juni 1818 te Wilre en werd in de kerk aldaar begraven. Hij werd ruim 90 jaar oud. N.B.: In de liassen van de Staten Generaal is te lezen dat hij 12.000 gulden bood. Van der Vreecken bood 13.920 gulden. (Retour)
62. Vinder Bart Verheyen, Vondstlocatie: Winevenstraat 56, 3620 Lanaken (net tegenover het voetbalveld), vermeld op: DVVL de website Forum voor metaaldetective. (Terug)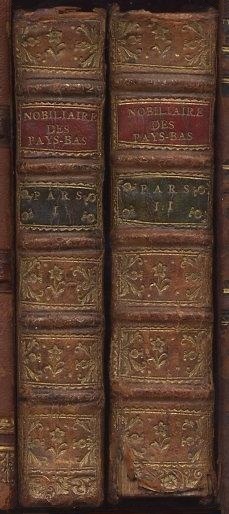 Nobiliaire des Pays Bas
Louvain 1760.
(Dans la propriété privée)