The Neanderthals and Denosivans
These first hominides were succeeded by the Neanderthalers. The split between the Homo Sapiens and Neanderthalers is estimated to have occurred in Africa between 500,00 - 400,000 BP based on calibration of the human mitochondrial clock using ancient genomes.
They enter Asia and Europe between 400,000 to 300,000 BP. (3)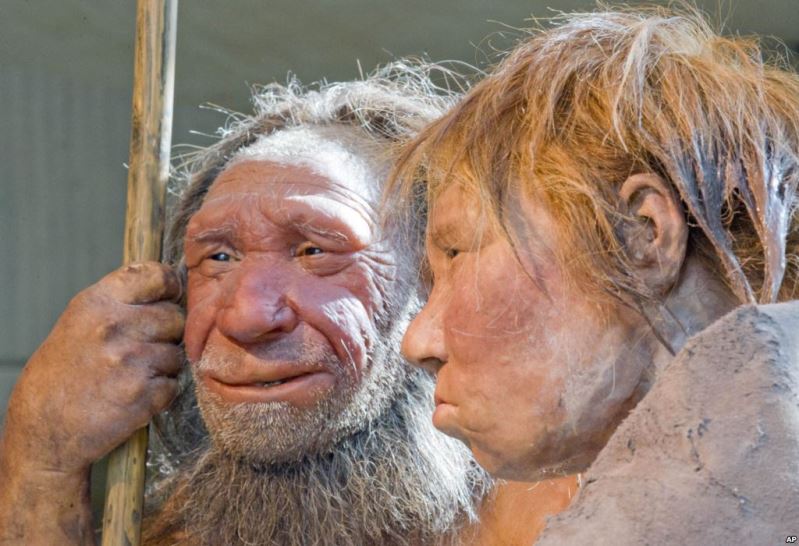 Reconstructions of Neanderthals at a museum in Mettmann, Germany.

.

Neandertals were the first to leave Africa and their remains were first discovered in the Neanderthal, Neander Valley, in Germany after these finding place they are were named. Denosivans, a related group, are named after the Denisova cave in the Altai Mountains of southern Siberia.

Remains of Denosivans are in Siberia in the Altai Mountains. They are named after the find-spot the Denosivan cave. These are just a few finger and toe remains and teeth. The age of which is estimated to be about 40,000 years old. Their bones were about twice as heavy as that of modern man. The mitochondrial genome could be determined well. They are a sister group of Neanderthals. They went apart about three quarters of a million BP. Denosivans have quite a few genes of an older unknown humanoid.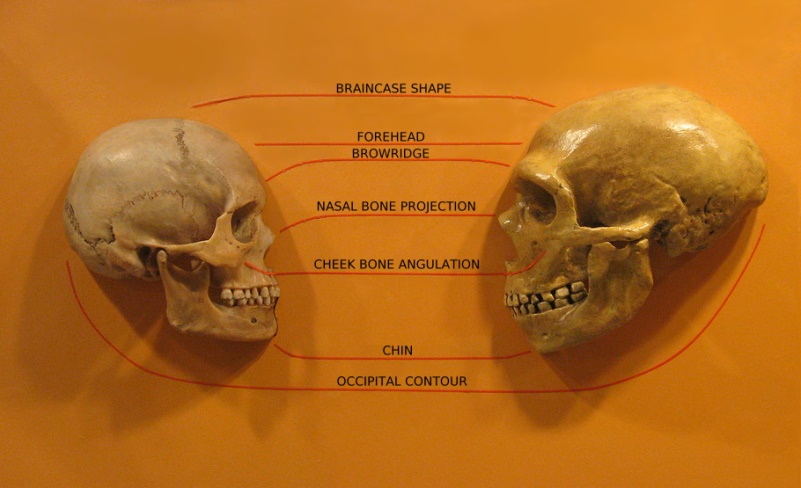 Skull of a modern human and a Neanderthal, Museum of Natural History in Cleveland. (4)
Archeolic remains left by Neanderthals include bones and stone tools, which are found in Eurasia, from Western Europe to Central and Northern Asia. Skeletons and stone tools have been found in Israel, which date from 120.000 to 150.000 BP and in southern China from about 130.000 BP, as well as a suspected necklace of eagle talons that would have belonged to Neanderthals living in the same time in present-day Croatia. In the Denisova cave in the Altai Mountains of southern Siberia, a finger bone was unearthed which was dated to between 30.000 and 48.000 BP. The mtDNA extracted from this bone lies somewhere between Neanderthals and modern humans.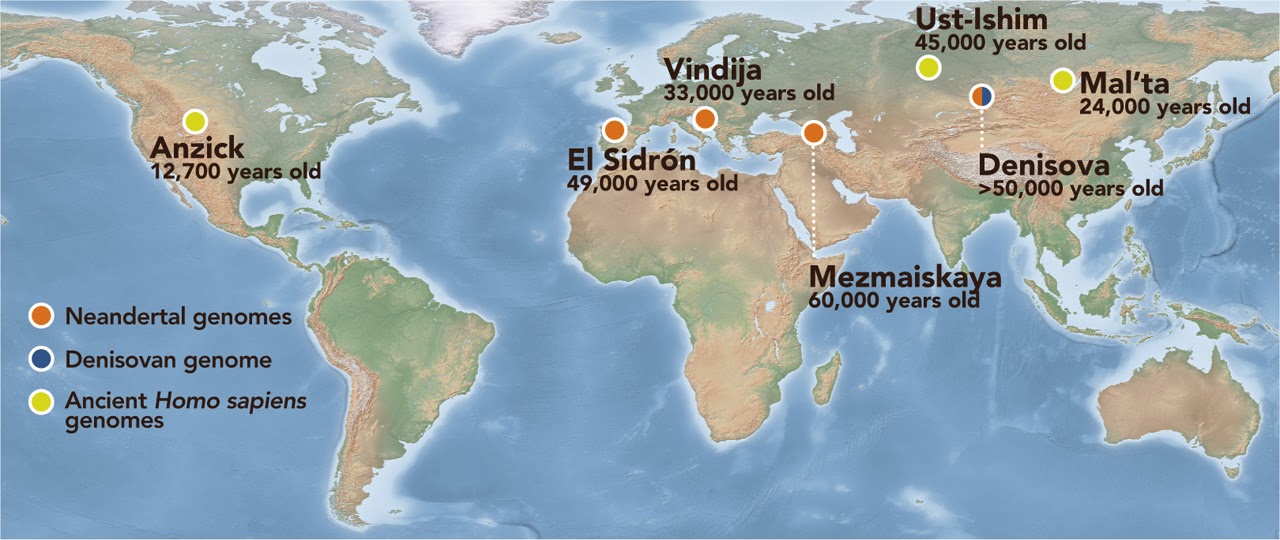 At these sites remains are found from who archaeologists could determine the genome.
The mtDNA sequences of Neanderthals are completely outside the present human variations; the same applies for the Y-DNA if the age of the first common ancestor is proposed as being younger as a result of reduced diversity, caused by major population declines during which lines became extinct, which could have been a common occurrence.
The Neandertalers had only 4 copies of AMY1 in their saliva, wiule we have in our genes many copies of the α-amylase gene AMY1. In each population ranging from 4, at some Finns, to 18. Europeans usually have 15. Very likely they got after eating of roots and tubers abdominal cramps and diarrhea. Their food consisted of meat from large mammals, fish and fruit with loose sugar. They were not skilled enough to hunt small animals.
Ear bone of a young Neandertal girl
A very complete temporal bone with an auditory ossicle: a complete stapes. Virtual 3D reconstruction techniques enabled this ossicle to be extracted virtually. Skeleton of a 2-year-old Neanderthal child found between 1970 and 1973 and named La Ferrassie 8.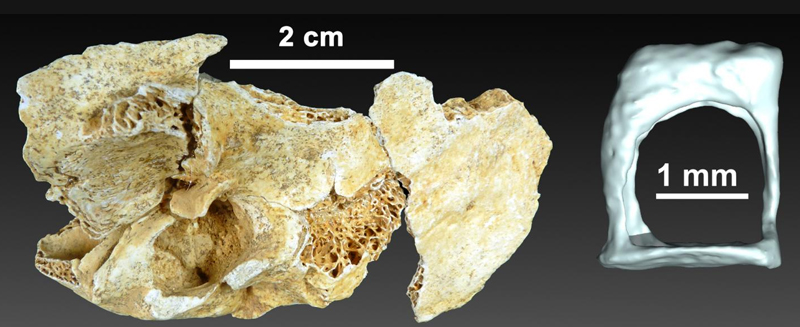 Collections at the Muséum National d'Histoire Naturelle à Paris.
When the Neanderthals became extinct is not entirely clear. Spain is probably one of the last refuges. The last finds there date from around 42,000 BP. There was a very dry period is geologically known as the Heinrich 5 event . In the struggle for existence during this difficult period when the amount of food decreased the Homo Sapiens could survive on a diet of roots and tubers, draw energy from it and digest them without trouble. (5)
Gene Flow
The estimated split time in Africa between Homo neanderthalensis and Homo sapiens estimated on their mtDNAs is 400,000 years ago. Nonetheless there was still gene flow between Neanderthals and the ancestors of the modern humans in Europe 50,000 - 60,000 BP. This gene flow contributed on the order of 2% of the genetic ancestry of non-Africans. (6)
There was also gene flow from a population related to the Denisovans into the ancestors of present-day aboriginal people from New Guinea, Australia, and the Philippines. It is notable that the populations today that contain the largest proportion of Denisovan ancestry are in Oceania. (7)
*
Homo Sapiens
The populating history of the World
In June 2017 is reported newly discovered human fossils from Jebel Irhoud in Morocco. This is dated to 315 ±34 thousand years ago.
The oldest Homo sapiens fossils are hitherto assigned to Omo Kibish in Ethiopia, about 195,000 years old, and Herto, also in Ethiopia, about 160,000 years. About 150,000 years ago, the findings of Israel from the Skhul / Qafzeh hominids date.
Particularly interesting is that the Omo and the Herto Kibish exhibit certain anatomical characteristics that are different from those found in Jebel Irhoud. These findings suggest that the Irhoud man is from a crossing between Homo sapiens and an unknown archaic African species. (7a)
Between 90,000 and 120,000 BP left some Africa and went to the Arabian peninsula. From there groups went to Iran, India, Indonesia and China. In the recently excavated Fuyan cave in southern China, dozens of teeth of modern humans found that could be dated by the surrounding strata between the 80,000 and 120,000 BP. Some of them reached Indonesia and went further to New Guinea and Australia. They largely retained their black skin. (8)
After their arrival in Eurasia, they had for some time between some 40,000 to 37,000 years ago, some fruitful contacts with both Neanderthalers and Denosivans. Fertile offspring have come from this. But only when the woman was a Neanderthaler or Denosivan, so not the man. In a relatively short period of time, they have subdued the underpin. We inherited from their probably single genes for a white skin.
In a relatively agreable time during the Ice Ages, an interglacial, the modern man, the Homa sapiens, spread from the Arabian Peninsula over Europe and Asia. Along two paths they appear to have gone.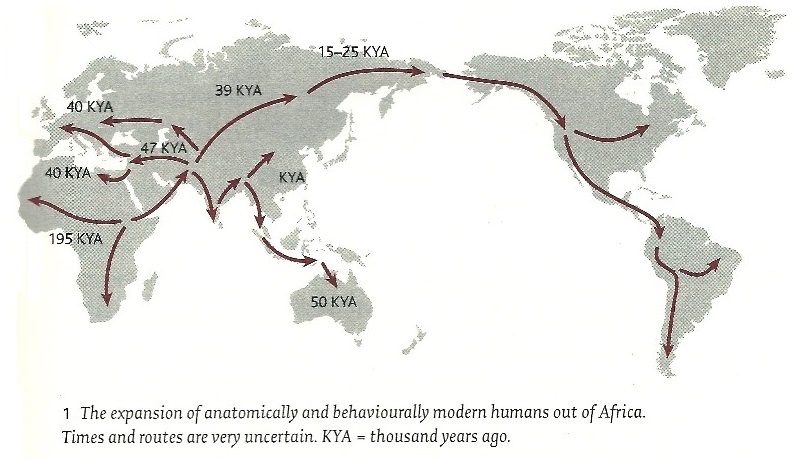 Sketch of the population routes in the World. (KY A= 1000 years). (9)
*
The populating history of Europe
Europe is populated by two main routes
One path went through Turkey over the Bosphorus which then was narrow and shallow then further to the Danube Valley and from there to Central and Northern Europe. The oldest remains in Europe are found in Romania and the Czech Republic. The radiocarbon dating of the skeletons is between 40,000 and 32,000 BP.
A second path was northward from Iran to Kazakhstan and Siberia and thence westward to Europe, and eastward to Asia.
From the Steppes of Asia is a group pulled back to the west.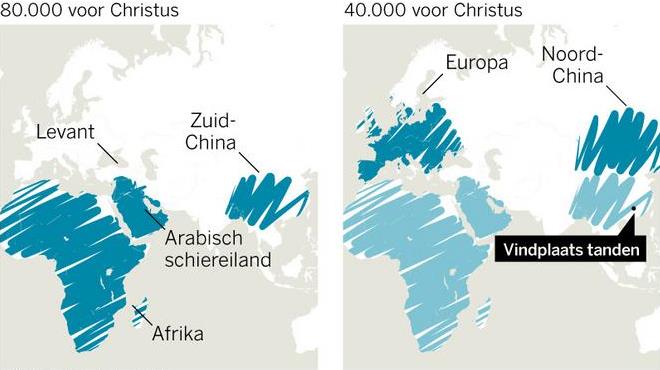 *
The origin of the Europeans
The knowledge about the origins of the current inhabitants of Europe and the history of their precursors is continually enhanced by the many new DNA research techniques. One of the oldest fossils of anatomically modern humans of Europe is Kostenki 14, found on the Middle Don River in Russia. This skeleton dates from 37,000 BP. Its genome shares a close ancestry with the 24,000-year-old Mal'ta boy from Siberia and with many present Europeans and native Americans, but not with modern eastern Asians.
The Kostenki 14 genome shows evidence of shared ancestry with a population basal to all Eurasians and it also relates to the later European Neolithic farmers. It contains more Neandertal DNA, and in longer tracts, than present Europeans. This is consistent with the shorter period of time until the last matings.
His genome reveals the timing of divergence of Western Eurasians and East Asians to be more than 36,200 BP; and shows that European genomic structure today dates back to the Upper Paleolithic deriving from a metapopulation that at times stretched from Europe to central Asia. (11)
The dark skin color has changed into a whiter one through the Neanderthal genes and by natural selection because pigmentation obstructs production of Vitamin D. This was in favor for the whitest people. (12)
The Mal'ta boy belonged to an ancient population spread out across Asia 24,000 BP. They came into contact with an East Asian population and mingled at some point. Native Americans are descended from him.
This population is not related to the Asians who live in the region today. But they also passed down their DNA to Europeans, but much later, in the Bronze Age with people of the Yamnaya culture, who lived 5,500 to 4,300 BP in what is now southwestern Russia. (13)
The Aurignacian culture
The first settlement in Europe by modern humans is thought to have occurred between 50,000 and 40,000 BP. The site of Willendorf II in Austria is till now the oldest known. Here are the first remains of stone-working man, and thus begins the Stone Age. The lithic artifacts date from 43,500 cal B.P. The climate was in that time a medium-cold steppe-type environment. This overlaps with the latest directly radiocarbon-dated Neanderthal remains, suggesting that Neanderthal and modern human presence overlapped in Europe for some millennia, possibly at rather close geographical range. (14)
The oldest human cultural expressions is called the Aurignacian. The name is derived from the French town Aurignac in the Haute-Garonne, the location of an archaeological culture from the late Paleolithic. The Aurignacian ended between 28,000 and 26,000 BP. This culture is associated with the first presence of the Cro-Magnon people, the first modern humans in Europe. Well-dated finds are five individuals from the Mladec cave in the Czech Republic about 32,000 BP and three anatomical modern humans of Pesteracu Oase cave in Romania, 35,000 BP.
The people of this culture produced worked bone or antler points and the earliest known cave art, such as the animal engravings at Aldène and the paintings at Chauvet cave in southern France.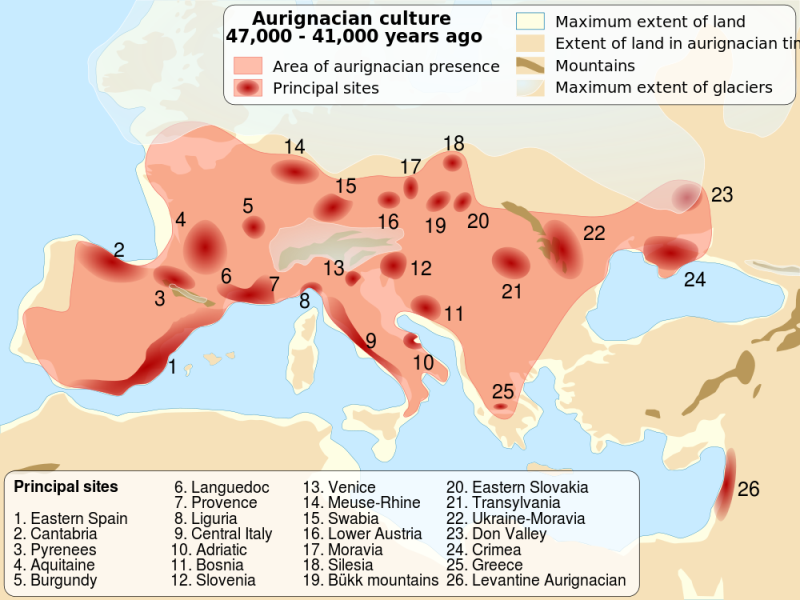 The three Pictures here are from Wikipedia